Workshops
Upcoming Workshop: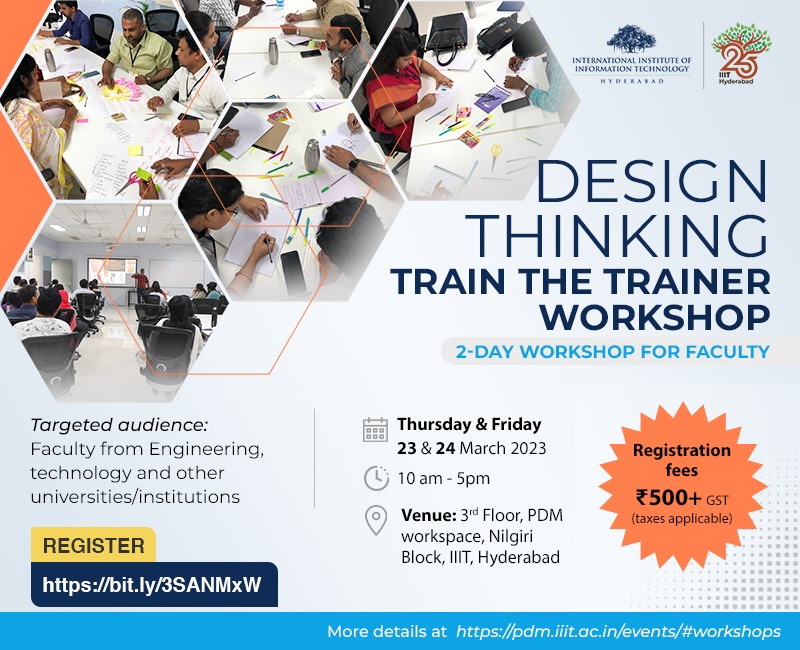 Design Thinking – Train the Trainer, 2 Days Workshop for Faculty (Mar 23rd – 24th, 2023)
The National Education Policy 2020 (Para 4.24) has recommended concerted curricular and pedagogical initiatives, including the introduction of contemporary subjects such as Artificial Intelligence, DESIGN THINKING, Holistic Health, Environmental Education, Global Citizenship Education (GCED), etc. at relevant stages. This initiative will require many trained faculty who can teach Design Thinking to students at the school and university level. Considering the same, Software Engineering Research Center and Product Design & Management program of IIIT Hyderabad PDM-SERC is organising series of two days "Design Thinking: Train the Trainer" workshop to train Faculty members representing engineering and technology institution/universities in and around Hyderabad. SERC is already successfully running a Masters program in Product Design and Management (PDM). The participants of this workshop will receive a Certificate of Merit based on their evaluation performance, and others will receive a Participation Certificate.
NOTE: This will be a physical workshop. The last date to fill out the application form and pay the registration fee of Rs.500 + Taxes is March 18th (Saturday), 2023.
This workshop is limited to 30 participants, who will be registered on a first-come, first-served basis. A maximum of three participants from a single institution or university will be accommodated.
Previous Workshops:
DESIGN THINKING – TRAIN THE TRAINER WORKSHOP -27/01/2023, 28/01/2023
SERC-PDM Conducted two days "DESIGN THINKING – TRAIN THE TRAINER" Workshop from 27 th  to 28 th  Jan 2023 at PDM Studio, Nilgiri Block, IIIT Campus, which was attended by 21 Faculty members from various Engineering Universities and Institution from Hyderabad and Kurnool.
This workshop was conducted as part of series of workshop planned to train more faculties who can teach Design Thinking course in their respective universities.  Design Thinking has been included as part of the curriculum of Education including Engineering and Technology under the new National Educational Policy (NEP).
The workshop was conducted by Raman Saxena and Prof. Raghu Reddy and coordinated by Usha Bala Vangavety. Many students' volunteers from PDM Program including Sri Varshini, Karthik, Atharva, Deepanshu, Arvind, Bishwajeet, Pratyush, Shambhavi, Anuj, Aniket, Param & Srinivas and Rohan Reddy (MS research) Shradha Iyer and Vaibhav (B.Tech.) helped us in successfully organising this workshop.
Maker Lab
News
Students Achievements
Happy to share the news that IIIT H team (TEAM SANKALP) consisting of
M. Tech PDM students – Deepanshu Garg, Karthik Konar, Bishwajeet Pal and Jyotheeswar Ganne have won the FIRST place in the National Level "Sustainability Hackathon" conducted by The Centre for Excellence in Sustainable Development, Goa Institute of Management to promote "Sustainable Tourism and Hospitality" in India.
There were 216 registered teams for the Hackathon, out of which 5 teams were shortlisted for finals. IIIT H team – "Sankalp" won the first prize of INR 25,000 for their idea on e-bike service in India. They were awarded the "Best Idea" by the jury.
Prof.Raman Saxena mentored the students.
Congratulations to the team members and the mentor!
For more info Click here